'A volume of exquisite tales that breathe with the living spirit of the dharma. These are the sutras of our times, played out in the lives of people we might meet next door.'
– LIN JENSEN, author of Bad Dog!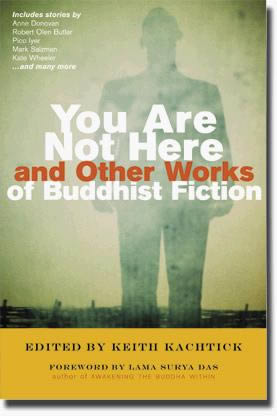 The stories in You Are Not Here and Other Works of Buddhist Fiction dramatize the spirit of Buddhism — often with wit, always with verve, and each in some distinctly vivid way. Only a few of these stories touch on the dharma explicitly, and this book takes you on an inward tour across the whole world — to the jungles of Indonesia, a fog-shrouded park in San Francisco, the sun-blistered African veldt, a Burmese monastery surrounded by gun-fire, and the church-like sanctuary of a Nebraska barn, just to name a few. Collectively these stories paint a living portrait of the face of Buddhism, and readers may discover that that face is a strangely familiar one — and that every journey only ever leads home. Authors include Dean Sluyter, Pico Iyer, Kate Wheeler, Jess Row, Anh Chi Pham, and many others. 
'Fiction schmiction, this book is for real. With its superb collection of entertaining, thoughtful and intelligent stories, this book is sure to impress whether you're a Buddhist, interested in Buddhism or don''t know a zafu from a zendo.'
– Matthew Bortolin, author of The Dharma of Star Wars
► Buy now in paperback.
________________________________________________________________________________________
'This book is destined to become the core text of Buddhist chaplaincy. A radical and wise offering to the world.'
– NOAH LEVINE, author of Dharma Punx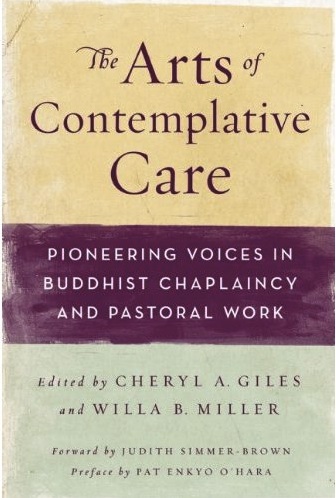 The Arts of Contemplative Care collects the voices of pioneers in the emerging domain of vocational Buddhism. This anthology captures the richness and diversity of practices being developed by socially engaged Buddhists in the fields of chaplaincy and ministry. This volume outlines a robust intellectual and spiritual foundation for the discipline and establishes the methods for practicing contemplative care on college campuses, in hospitals, prisons and the military, and in hospice environments. The first comprehensive overview of Buddhist chaplaincy of its kind, this is sure to become a touchstone work for engaged Buddhists as they forge their place in the world of pastoral care. Authors include Dean Sluyter, Roshi Pat Enkyo O'Hara, Lama Willa Miller, and others. 
'A valuable, honest and wise handbook — and a beautiful sign of the blossoming of Dharma in the West.'
– Jack Kornfield, author of A Path With Heart
'A must-read for caregivers and others seeking to actualize genuine compassion beyond hope and fear — a treasure trove of practical wisdom.'
– Fleet Maull, founder of the Prison Dharma Network, the National Prison Hospice Association, and the Center for Contemplative End of Life Care Programs at Naropa University
► Buy now in hardcover or Kindle.