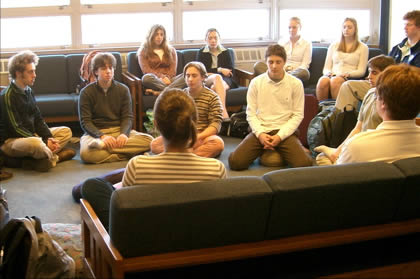 The LITERATURE OF ENLIGHTENMENT program was one of the longest-running and most successful classroom meditation programs in the United States, taught by Dean Sluyter from the late 1970s to 2010. It was offered at The Pingry School, a highly-regarded independent school in central New Jersey, as a spring-semester English elective for juniors and seniors. Students read books approaching the notion of enlightenment from a number of angles and in several world-cultural contexts; they wrote papers ranging from Salingeresque stories about themselves to haiku journals and Socratic dialogues; and they engaged in intensive "lab work" consisting of a variety of meditative techniques.
Hear a class session, an introduction to haiku in the context of the enlightenment process:
The course enjoyed strong support from both administration and parents, who generally noted a positive effect on the students' behavior and attitudes. Students themselves reported feeling less stressed yet more effective in their academic and personal lives. The anonymous evaluations they wrote at the end of the semester typically included such comments as, "The course opened up a whole new world for me" and "None of my religious beliefs changed, but the course helped me find the spiritual content of my own religion." Self-destructive behavior such as eating disorders and substance abuse tended to lessen or fall away spontaneously. Graduates of the course now include many adults who, as they have built their families and careers, have continued to enrich their lives with meditative practice.
In addition, beginning in fall 2002 Dean began conducting a new program of MINDFUL AWARENESS PRACTICE, which offered a guided sitting two mornings a week to all Pingry faculty and staff and to all students in grades nine through twelve. This program, now under the guidance of dance and yoga instructor Trish Wheeler, continues to prove highly popular, with a number of students and teachers coming on a regular basis.
Schools and organizations interested in developing similar programs should feel free to contact Dean.
________________________________________________________________________________________
LITERATURE OF ENLIGHTENMENT COURSE DESCRIPTION
FROM THE PINGRY SCHOOL CURRICULUM GUIDE 2009–10
Major semester course. 1-1/2 credits. Forms V-VI.
Is there a dimension of boundlessness behind the boundaries of everyday life? Can it be directly experienced? How might such an experience change our lives? In this course we seek to answer these questions through the study of literary and scriptural texts, both Eastern and Western, ancient and modern, as well as through techniques of inner exploration. We encounter the recurrent theme of transformative awakening, or enlightenment: the satori of Zen, the rigpa of the Tibetans, the "zone" of peak athletic performance and artistic creativity, Plato's vision of universal love, the Judeo-Christian kingdom of God within.
Texts include The Heart Sutra, The Gospel of Thomas, The Dharma Bums (Kerouac), The Symposium (Plato), Be Here Now (Ram Dass), Zen Flesh, Zen Bones (Reps), Franny and Zooey (Salinger), The Zen Commandments (Sluyter), and ecstatic poetry of Basho, Blake, Dante, Kabir, Mirabai, and Rumi. Musical interludes may include Tibetan and Gregorian chant, Hindu kirtan, Sufi qawwali, and the devotional jazz of John Coltrane. Writing assignments include haiku, a Salingeresque fictional self-portrait, an original scripture, and a minutely mindful journal of the performance of an everyday activity.
Lab: In the lab component of the course, students learn traditional techniques of sitting, walking, and breathing meditation, self-inquiry, compassion, and loving-kindness, for experiencing boundless awareness-space as described in the literature.
Copyright © 1988-2009 The Pingry School