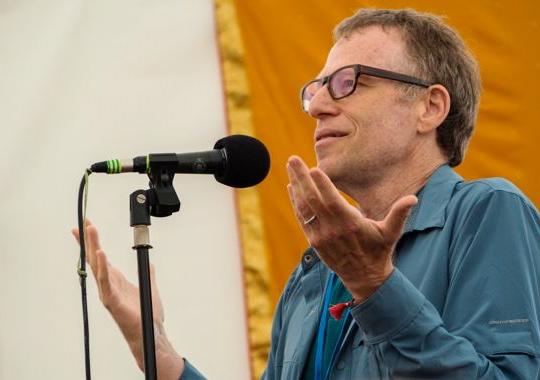 BIOGRAPHY  
Award-winning author Dean Sluyter (pronounced "slighter") has taught natural methods of meditation and awakening since 1970. His five highly acclaimed books include the back-to-back Amazon #1 stress-management bestsellers
Natural Meditation
 and 
Fear Less: Living Beyond Fear, Anxiety, Anger, and Addiction
. Dean gives talks, workshops, and retreats throughout the United States and beyond, from Ivy League colleges to maximum-security prisons. His media appearances have included National Public Radio, 
The New York Times, New York Magazine, Coast to Coast AM, The Dr. Oz Show, and O, The Oprah Magazine.

A grateful student of Eastern and Western sages in several traditions, Dean has completed numerous pilgrimages and retreats in India, Tibet, Nepal, and the West. He is known for conveying authentic teachings in forms that are relaxed, accessible, and down-to-earth. When not writing or teaching, he narrates audiobooks, administers the Awakening Prison Art project, makes music, and happily tools around the streets of Santa Monica on his Vespa.
Dean lived in New Jersey for 33 years, where he developed classroom meditation programs at The Pingry School and worked with inmates at Northern State Prison. He is now on the faculty of the West Coast Writers Conferences and is married to documentary filmmaker Yaffa Lerea.
TO BOOK DEAN FOR YOUR NEXT EVENT —
Contact info@deansluyter.com. For more information, view Dean's speaker information sheet.
TESTIMONIALS
"The laid-back, down-to-earth approach made meditation appealing and easy, even for complete novices. Dean's presentation was of tremendous value in supporting our view of meditation's benefits for our associates, both personal and professional."
– Haley Akin, Senior Health & Wellness Specialist, Garmin International
"We loved having you at Timber Creek, and we're most grateful for what you offered. The guests soaked it up and loved your natural, genuine style. We're elated you could come and look forward to a future visit."
– Tom Jacobs, Director, Timber Creek Retreat House

"What a pleasure to host Dean for his Natural Meditation workshop! Dean speaks with clarity and ease from his own years of experience with meditation, so students are naturally engaged. He made a connection with everyone in the room — from seasoned yogis to my skeptical 70-year-old mother!"
– Jamie Rye, owner, One Tree Yoga, Omaha
"Dean's methodology is simple and easy to grasp. He is practical in his teachings and is a presenter who is easy to warm up to."
– José Falla, Guatemala Education Officer, Young Presidents' Organization
"You made killers peaceful
."
– A.C., Northern State Prison, Newark, NJ
DEAN IN ACTION   
In this lively 2018 talk, Dean discusses natural meditation, Fear Less, and some quick methods for addressing everyday challenges.
Copyright © 1998-2019 by Dean Sluyter