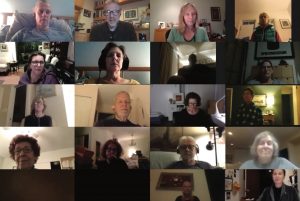 Staying Connected … With Our Own Inner OK-ness & With Each Other
In our new era of quarantine, Dean is hosting interactive meditation-and-discussion sessions twice a week via Zoom. This is a great way to stay (or become!) calm, sane, and happy in these strange times. First, through guided practice of natural meditation, we settle within ourselves and connect with our inmost core of just being — the place of infinite OK-ness. Then, through discussion and Q. & A., we address the real-life issues of integrating that inner OK-ness into our outer world. And, connecting with others in real time, we see how they share our experiences and concerns, and we support and inspire one another.
On a purely practical note, public health experts agree that reducing stress helps to strengthen the immune system. Natural meditation is the premier, time-tested stress reducer.
The sessions are free and open to everyone, anywhere in the world. No experience or skill is required. For a quick preview of the effortlessness of natural meditation, go here. 
How to Join In
Session times:
Tuesdays, 7:30 pm PDT / 10:30 pm EDT
Thursdays, 4:30 pm PDT / 7:30 EDT
To participate, join the mailing list here. Every Tuesday morning, you'll receive an invitation with links to that week's meetings. (If you already receive Dean's mailings, you don't need to resubscribe.)
At the meeting's start time or a few minutes before, click on the link. 
Before using Zoom for the first time on a smartphone or tablet, install the free Zoom app from the App Store (for Apple devices) or Google Play Store (Android). For computers, no pre-install is necessary. 
Previous sessions are posted on Dean's YouTube channel.
Loka samastha sukhino bhavantu
Loka samastha sukhino bhavantu
Loka samastha sukhino bhavantu
Om shantiih shantih shantih
May all beings everywhere be happy —
May all beings everywhere be happy —
May all beings everywhere be happy —
Om … peace, peace, peace.