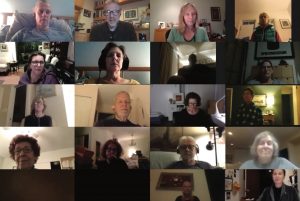 Staying Connected … With Our Own Inner OK-ness & With Each Other
Dean hosts interactive meditation and discussion sessions three times a week via Zoom. This is a great way to stay (or become!) calm, sane, and happy in these strange times. First, through guided practice of natural meditation, we settle within ourselves and connect with our inmost core of just being — the place of infinite OK-ness. Then, in the discussion, we address questions about meditation practice and integrating that inner OK-ness into everyday life. 
New participants are always welcome. No experience, skill, attitude, or belief is required.
The sessions are free and open to everyone, anywhere in the world. For a quick preview of the effortlessness of natural meditation, go here. Anyone can meditate.
How to Participate
Join the mailing list here. (We never share or sell your information.) Every Tuesday morning, you'll receive a newsletter with the Zoom link, along with instructions for first-time users.
Usual session times (these sometimes vary, so check the weekly newsletter):
Tuesdays, 7:30–9:00 pm PT (10:30–12:00 pm ET)
Thursdays, 4:30–6:00 pm PT (7:30–9:00 pm ET)
Fridays, 10:30 am–12:00 pm PT (1:30–3:00 pm ET, 5:30–7:00 pm UTC)
Previous sessions are archived on Dean's YouTube channel.
Loka samastha sukhino bhavantu (x3)
Om shantih shantih shantih
May all beings everywhere be happy.
Peace, peace, peace.