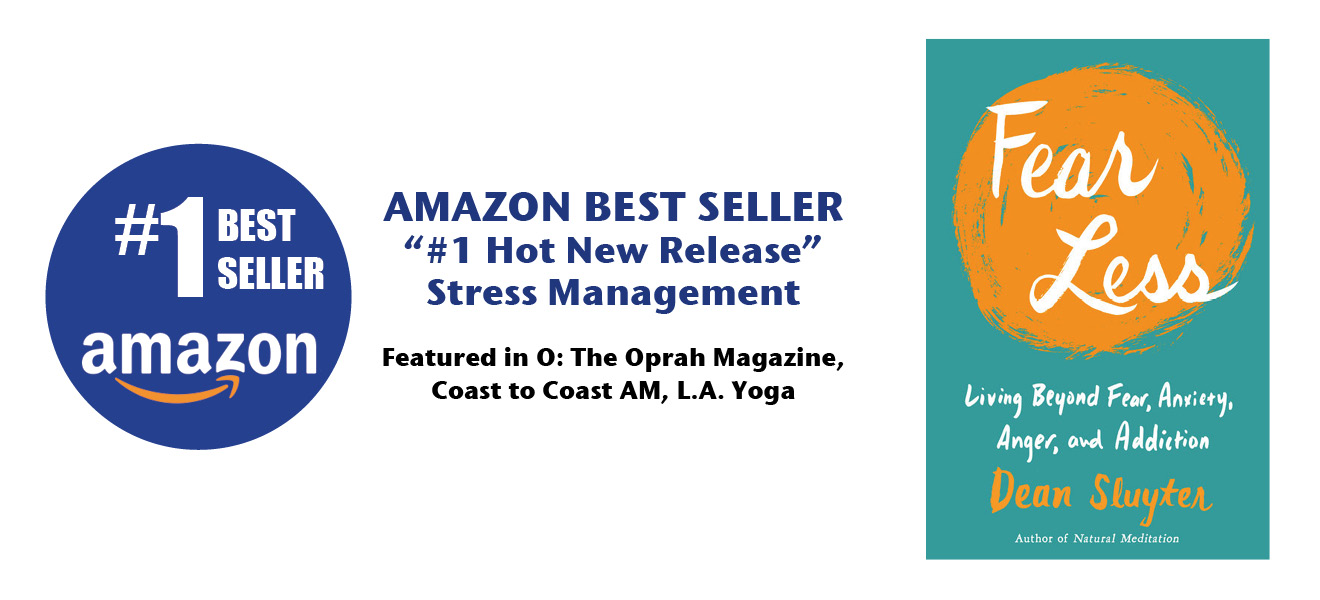 "Who knew that learning how not to be freaked out could be so much fun?"
– Michael Kane, author, Heal Your Broken Heart
LESS FEAR, MORE LIFE — A PRACTICAL GUIDE
These days there's so much fear in the air, you can almost taste it — along with all the varieties of anxiety, anger, and addiction that grow out of it. How can you navigate your way through the fear and confusion, and find your way to peace?
In Fear Less, award-winning author Dean Sluyter shows how to use simple meditative techniques and subtle tweaks of body, mind, and breath to open your life to deep, relaxed confidence. Drawing on ancient enlightenment teachings as well as contemporary research, he lays out practical, easy-to-follow steps for addressing such issues as:
letting go of compulsive overthinking
loosening the bonds of addiction (including smartphone addiction)
overcoming the fear of death
finding meditative stillness in the thick of activity
► Buy Fear Less in paperback, ebook, or audiobook.
► Read Chapter 3: "Relax at the Moment of Contact."
"A great advice book for living with ease in daily life."
– L.A. Yoga
"I love this book. Not only is it practical and grounded, it was written from a place of soul-depth."
– New Spirit Journal
"In his friendly, easygoing style, Dean Sluyter shows how to surf even the biggest waves of powerful emotions. A delightful and necessary guide to staying sane in these 'interesting times.' "
– Lyn Genelli, marriage and family therapist, author, Death at the Movies
"Dean Sluyter's kind, accessible tone talks with you, so you always feel he is by your side as you make the journey."
– Mark Goulston, M.D., author, Get Out of Your Own Way and Just Listen
"Dean Sluyter has written a beautiful book that shows us how to navigate the free-floating anxiety of everyday fears. He shows us, with insight and humor, how to access the deep silence that is available to everyone. Fear Less is rich with inspiration and practices that lead to a more unobstructed view of reality. It is a book to be enjoyed over and over again."
– Edward Viljoen, author, Ordinary Goodness and The Power of Meditation
"As a recovering alcoholic and not-so-recovered depressed person, I've long been aware that mindfulness would be helpful to my life, but it's just so intimidating. Not so with Sluyter, who pairs concrete suggestions with a no-pressure attitude that makes this book feel like it's written by a really smart friend."
– Katie MacBride, journalist, "Ask Katie" recovery-advice columnist
SPECIAL RESOURCES FOR FEAR LESS READERS